We are only a few hours away from the start of the 2012-2013 NHL Lockout, and it's beginning to set in for me: there's a lot I'm going to miss without pro hockey both in Columbus and on TV. I've discussed my personal outlet choice, but it's going to be impossible to fully replace the the level of talent and quantity of games.
So I'll ask you to join me as I stare down into the abyss and look at what struck me as three obnoxious, mildly depressing losses that will come when (probably not if…) the lockout continues and cuts into the regular season (or worse). We won't notices these right away, but if the weeks turn into months without hockey, I anticipate these missing stories to drive my disappointment.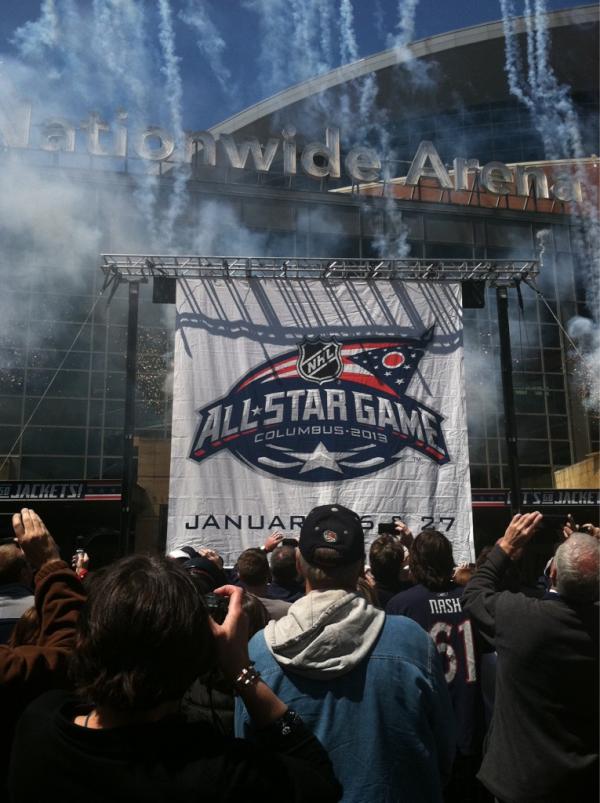 Columbus Won't Get its All Star Game // It's a personal pick first, and the missing storyline that bothers me most. After a seasonal equivalent to a punch in the gut, followed by a knee to the crotch, and a lottery-based lead-pipe to the face for good measure, the All Star game was something legitimately exciting for the Columbus fanbase.
Yes, an All Star Game is a mostly meaningless event, but it's about the pure entertaining fun. I was personally excited for the Fan Fair, the Skills Competition, and the general hockey buzz around town. For once, the NHL wouldn't take a back seat to the Ohio State and the Blue Jackets club would enjoy a popularity bounce in a rebuild year (something crucial, as the team is more likely to be competitive in the 13-14 season, rather than this one).
But it will be gone. All the effort by the city and the team will have been for nothing, and we'll have to wait until January 2015 (due to the Olympics) for the ASG to show up. It's a loss that CBJ fans will absolutely feel, especially after all the hype generated by the team.
Big Market Momentum will be Derailed // I'm surprised we didn't see NHL executives drool more often post-2005-lockout. Consider: the second and third largest cities in the US won the Cup in two of the last three years. The first and fifth largest cities were absolutely captivated by a behind-the-scenes look at their teams preparing for an outdoor game. That's a massive amount of goodwill and fanbase-building in lucrative markets. But all that positive movement is meaningless if the lockout lasts too long.
That attention finally paid to the championship Kings in Los Angeles? Essentially useless when the hockey isn't there. LA fans will return to their beloved Lakers (and rising Clippers) without sparing another thought. The hockey popularity will have to build from scratch. The recent successes for the Rangers and their high-profile Rick Nash addition this summer? The regular hockey fans will care, but NYC's focus will slip back to a Knicks addiction (after the populous finishes with the Giants and Jets).
Even hockey in Chicago and Philly can be knocked backward. While it's unlikely their on-ice performance will take a hit, it's entirely probable that bandwagon fans will be lost without the hockey to keep their attention. And after two lockouts in such close proximity, they might not want to invest (both emotionally and economically) in the league again.
We Get Cheated out of Prime Age Players // Steven Stamkos. Claude Giroux. Evgeni Malkin. Jonathan Toews. The Sedin Twins. John Tavares. A healthy Sidney Crosby. All these players are at (or are nearing) the height of their powers. They all seem poised to push through to even greater achievements. Instead, we lose them. We don't get to see the three-way point race in the Atlantic Division as Crosby, Malkin, and Giroux all try to one-up each other. We don't get to see if Stamkos can go after another Rocket Richard, or maybe push 60 goals again.
And beyond those obvious superstars, we also miss out on the storylines of other high-profile players. Will Alex Ovechkin re-find his previous excellence, or is he merely "very good?" Can Ilya Kovalchuk build on his well-rounded play without Zach Parise? How will Parise and Ryan Suter fare in Minnesota? Do Hall, Eberle, Yakupov and company finally break through? What happens to the big three in Anaheim?
We don't get the entertainment, we don't get to see these athletic achievements. None of it. No All-Star boost. No more attention. No superstars. It's all gone if the lockout takes the season. And it sucks.